M140i and M240i Custom ECU Remapping
With just a Stage 1 Remap we can achieve 420-440bhp and 640-680Nm of torque, with a sports cat from Wagner Tuning UK and an uprated HPFP together with octane booster we can take power even further with our Stage 2 Remap.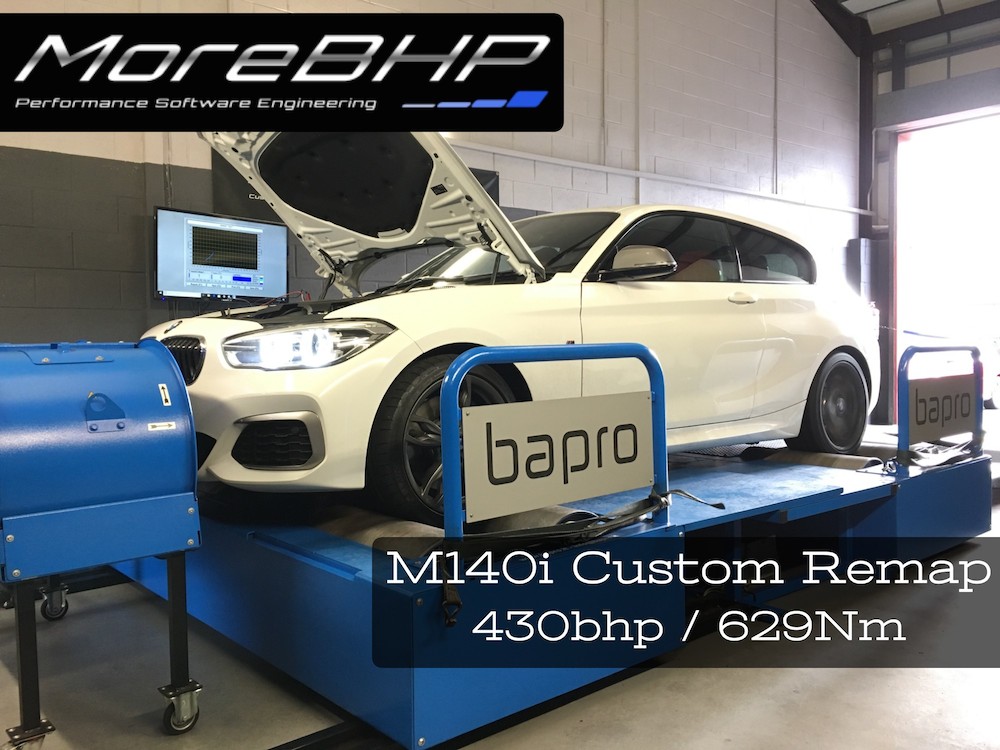 The M140i and M240i are even more potent than the previous M135i and M235i and we've seen them make 340-360bhp in standard form, depending which gear they are dyno'd in. Of course like any turbocharged car there are substantial increases in power and torque to be gained from a MoreBHP custom ECU remap.
We were lucky enough to be able to borrow an M140i for a week to spend time developing and testing the MoreBHP remap. This involved many days of rolling road testing, map writing and trawling through data logs, coupled with actual road testing to iron out any part throttle or in gear issues.
If you've done your homework you find some other tuner's struggling with a fuelling problem which is preventing correct power delivery high in the rev range. We too were confronted with this problem but with some in depth research and perseverance we found the solution to control the fuel pump. Without this fix power is limited and the delivery of it unreliable.
Hence why our Stage 1 Remap is out performing all other's Stage 1 or Stage 2. Our test M140i managed the best part of 450bhp and 700Nm of torque. In the refined and released product we aim for around 430bhp and 650NM with the Stage 1.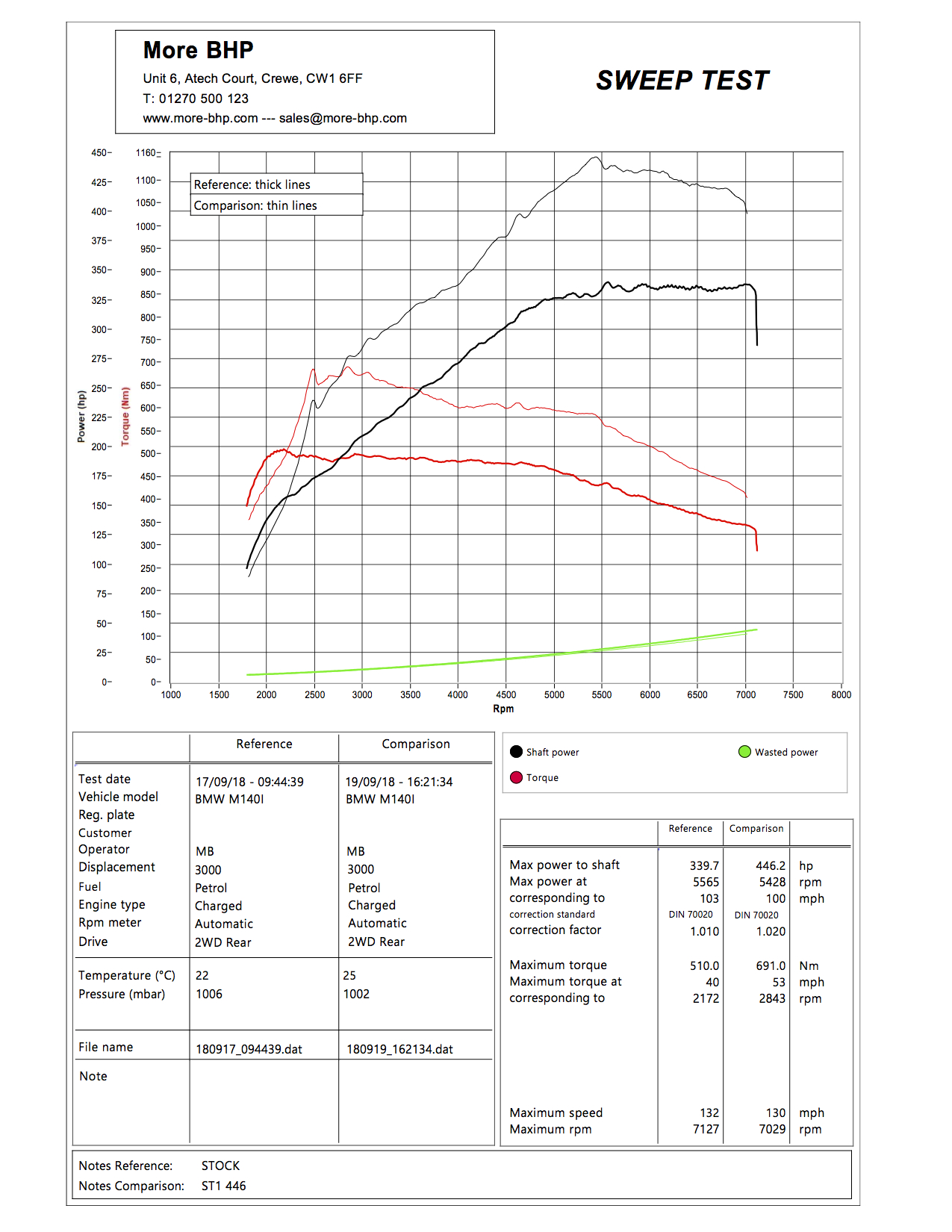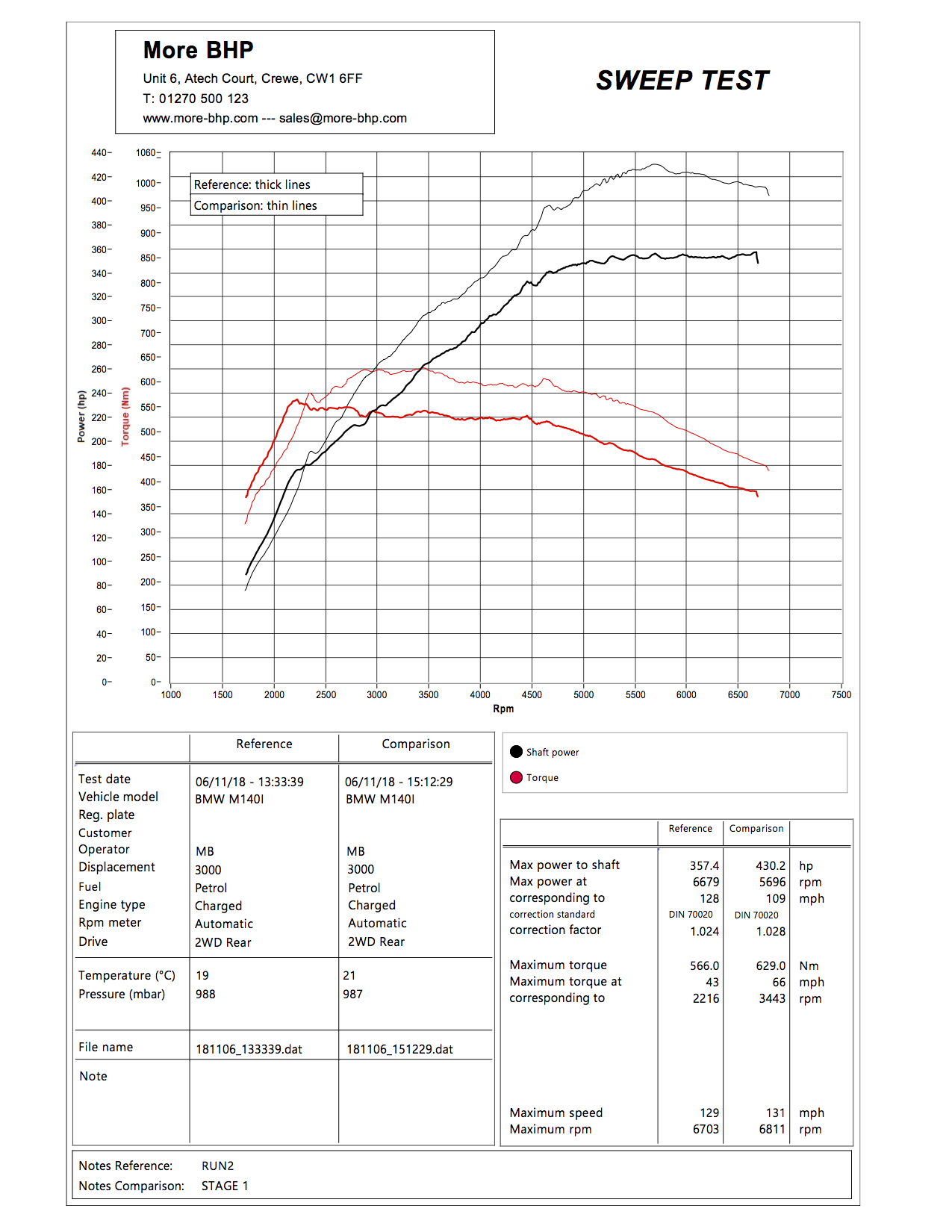 (To achieve the very best results from the remap we recommend (almost insist) that you run 99RON fuel such as Tesco Momentum or Shell V-Power.)
With this amount of torque we found it a problem maintaining traction in the lower gears so we developed a clever version of 'torque-by-gear' that allows ramping up of torque as you go up the gears. This makes a massive difference to accelerating off the line, and the car just gets stronger as you go from 2nd to 3rd to 4th. Brilliant to drive.
We can also limit the power in the different driving modes of ECO, Comfort and Sport although it isn't something we feel necessary to do.
The 155mph speed limiter is removed, the noisy cold start switched off (if reqd), overrun pops and bangs in Sport Mode enhanced and the Sports Displays recalibrated to reflect the new power and torque available.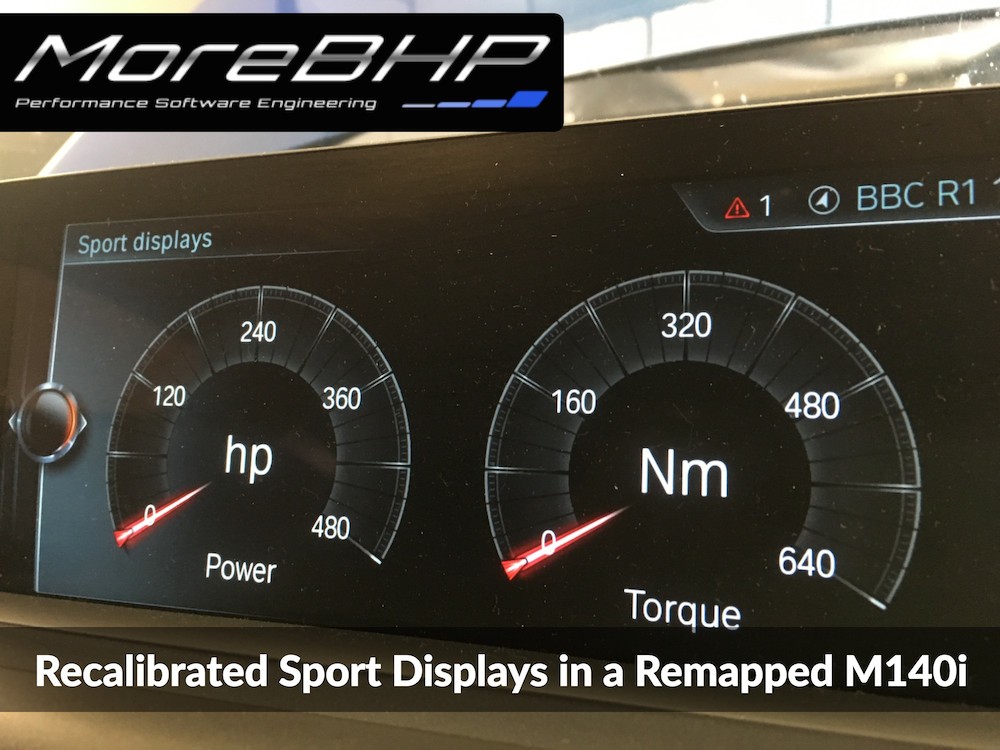 We've had customers testing their 100-200km/h times and they are either matching or bettering those of a stock M4 - that's pretty fast.
Before remaps were available for the x40i engine it was common to fit a tuning box to this engine which fools the ECU in to producing more boost than it realises, without accurate corrections to timing and fuelling. Sure they do allow for more performance but in no way comparable to power/torque delivery of a carefully calibrated remap which allows the ECU to function as intended. The tuning boxes make very aggressive boost surges with too much loss of traction, gear changes of the auto box become rough too.
The difference between the remap and a tuning box is like the difference between night and day. You get more power and more torque, the delivery is so smooth and controlled and the car is just so much faster.
Our ultimate goal at MoreBHP is to make your car fast, great to drive and reliable. It is our experience and attention to every detail that makes this possible.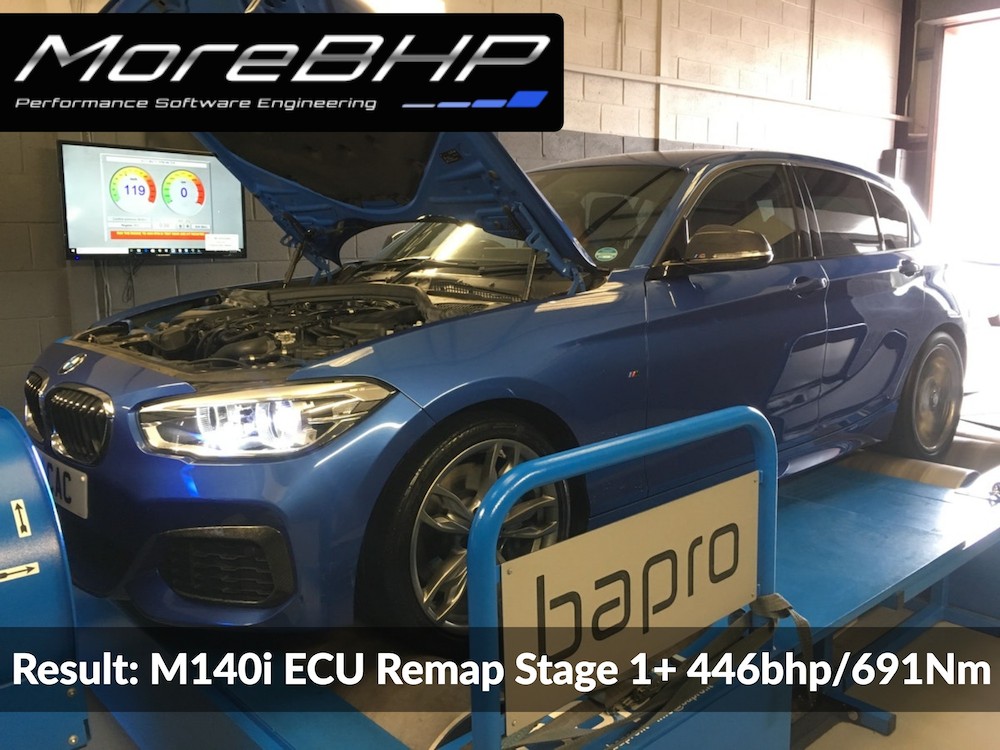 Apart from a better running car our remap also offers other benefits such as-
Cold start off
Decat MIL off (Track use)
Exhaust flaps permanently open in Sport Mode (Track use)
Enhanced Sports Displays to reflect the increase in power and torque
Selectable power modes for ECO, Comfort, Sport and Sport Plus
Lengthened exhaust burble on lift off (Track use)
Speed limit removal
Higher rev limit for manual cars
MoreBHP are so passionate about tuning BMW's, so why not give us a try.
It is worth visiting our facebook page so you can see the number of BMW's we actually tune.